When you tap a Studio Access link on your mobile device, it should open the Riverside mobile app and then connect you to the desired recording Studio.
Troubleshooting for:
Suggested Troubleshooting Steps
Scroll further down the page to see the Join studio via app button.
Download or update the Riverside iOS app

or

Riverside Android app.
Check that you opened the page in your device's default system browser, rather than the in-app browser of another app like Instagram, Facebook, Gmail, or Slack.
To open the page in your device's default system browser:

Tap the ... [three dot menu], then tap Open in system browser.
Or tap the Safari or Chrome icon.
Look for a page like this: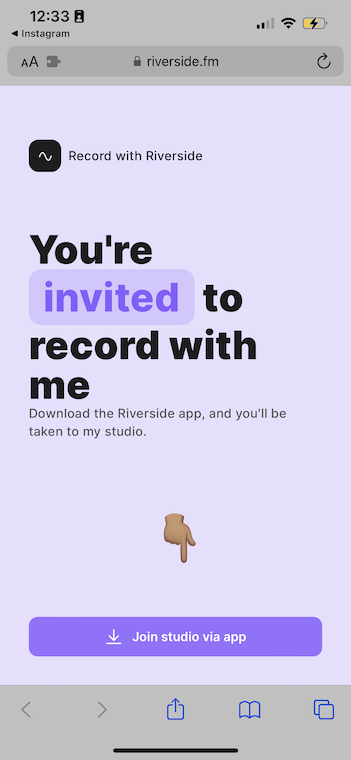 If the Riverside mobile app does not launch or does not connect to the Studio after you tap Join studio via app, continue below:
Ask the session's Host to send you a Studio invite email invite directly from Riverside.
In the email, tap the Join session button.
In the mobile browser page, tap Join studio via app.
The Riverside mobile app launches and connects to the desired Studio.