It's important that your local file is 100% uploaded before closing the Studio. The amount of time the upload process takes depends on the quality of your internet connection and the total length of the recording session.
On a computer
Look for the confirmation at the top of the Studio page that says Upload Complete or Your recording was fully uploaded.
If you accidentally close the Studio before the upload completes, follow these steps.
On the mobile app
In Studio – iOS
If you don't see your upload meter, tap the floating preview of your video to expand it.
Look for
100%.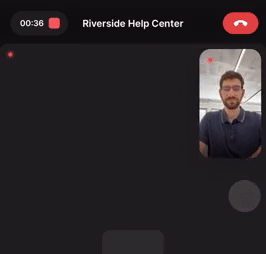 NOTE:
Your camera must be enabled in the Studio to expand the floating preview tile and see your upload meter.
In Studio – Android
If you don't see the upload meter, tap the screen. Look for 100% at the top:

After Recording
On your mobile device, view the upload status of your recent recordings by following these steps:
Launch the Riverside mobile app.
In the upper-right corner, tap (Settings).