Who: Host and Producers

Plan: Business plans

Device: Computer Browser
Hosts and Producers who join a Studio in a Riverside for Business account can help participants record with the best microphone and camera they have. First, check which connected devices are available in the Studio sidebar, then prompt the participant to switch.
IMPORTANT:
During a recording, input/output devices cannot be changed. The Host or Producer should stop recording first. Participants can turn their mic/camera off or on at any time.

A participant's device does not switch until they click Approve. Turning off their camera, mic, or speakers happens immediately.
Step by step
Using a computer, log in to your account.
In the People sidebar on the right, look for the participant's name.


NOTE:
If you don't see the sidebar, click People at the bottom of the page to expand it.

Next to the participant's name, click the  (down arrow).
Under Input & Output, see available devices by clicking the camera, mic, or speaker menu.
On the list, click the preferred new device.

The participant's screen displays a pop-up prompt about the device switch, like in the image below. The device only changes after they click Allow.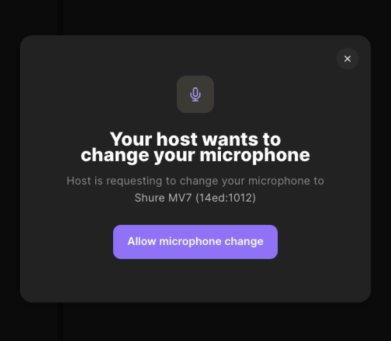 Learn more