In the Studio, the Host and Producer(s) can view participants'
microphone levels
in the
sidebar's Studio tab
. Follow the steps below to view participants' audio levels.
Step by step:
Using a computer, join a Studio as Host or Producer.
In the sidebar on the right, click the Studio tab.

NOTE:
If you don't see the sidebar, click (the participants icon) to expand it.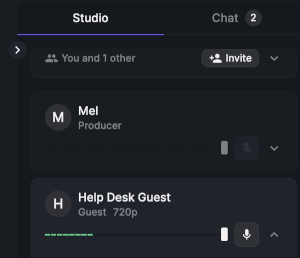 IMPORTANT:


If the microphone level meter shows that a participant is too loud or too quiet, they should increase or decrease their device's sound input and can

adjust its microphone sensitivity before the recording begins

.
TIP:
The Host and Producer(s) can also adjust other participants' audio output using the fader or mute them. Participants can also mute themselves and use the fader.