If you are not wearing headphones, Echo Cancellation limits how much other participants' audio output is picked up by your microphone and transmitted back into the Studio. Without it, other participants will hear a feedback signal or echo during the Studio session and the 'audio bleed' saves on their recorded tracks. Follow the steps below to turn individual Echo Cancellation on or off.
IMPORTANT:
Recordings sound best when all participants are wearing headphones. If someone is not wearing headphones, turn on their individual Echo Cancellation.
Step by step
Using your computer, join a Riverside Studio as a Host or Producer.
In the sidebar on the right, click the Studio tab.


NOTE:
If you don't see the sidebar, click (the participants icon) to expand it.

Under a participant's name, click the toggle next to Echo Cancellation.
Their individual Echo Cancellation turns on or off.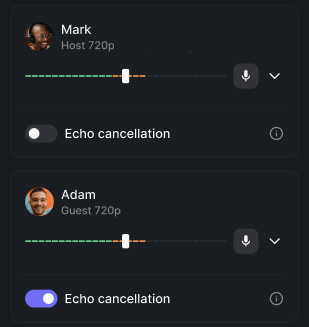 NOTES:
Echo Cancellation can only be changed before or after recording. If the toggle is grey, first stop the current recording.

Each participant's Echo Cancellation is usually already set up in the Lobby. Before they enter the Studio, they indicate whether they are wearing headphones. You usually won't need to change it afterward in the Studio.

If you are a Guest, you can also change your own Echo Cancellation in the Studio sidebar or in the Participant Audio & Video Settings window.