Live stream your Riverside recording session on Twitter to reach a broader audience.
IMPORTANT:
In order to stream directly to Twitter, you need to use the Twitter Media Studio. Media Studio is an invite-only feature not available to all Twitter users.

Some Twitter users have reported that Twitter has removed the Media Studio's Producer tab.
Step by step
Using a computer, log in to your Twitter account.
Go to Twitter Media Studio.
Click on the Producer tab.
Under Broadcasts, click Create broadcast.
Enter a Broadcast name and Category.
Under Source, select Create a new source.
In the Create source pop-up, enter a Source name like 'Riverside'.
For source type, select RTMP.
Select the Region closest to your location.
From under Source details, copy and paste the RTMP URL and RTMP Stream Key to the Riverside Studio's settings.
On Twitter, click Done.
At the bottom of the Broadcast details window, click Create broadcast.
Scroll to the top of the Broadcast details window.
Under the preview player, click Tweet.
Compose a tweet that shares the live stream and click Tweet.
In the Riverside Studio, start recording to start the live stream feed.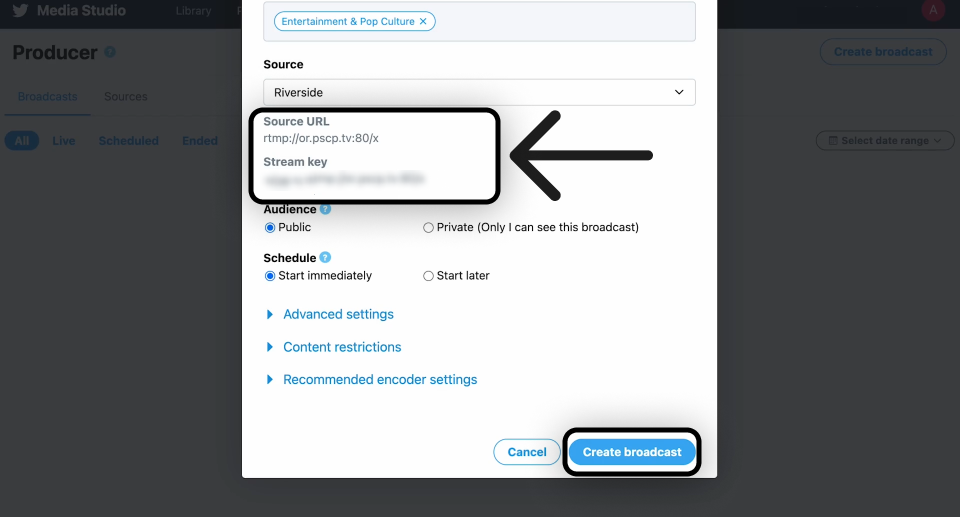 Learn more