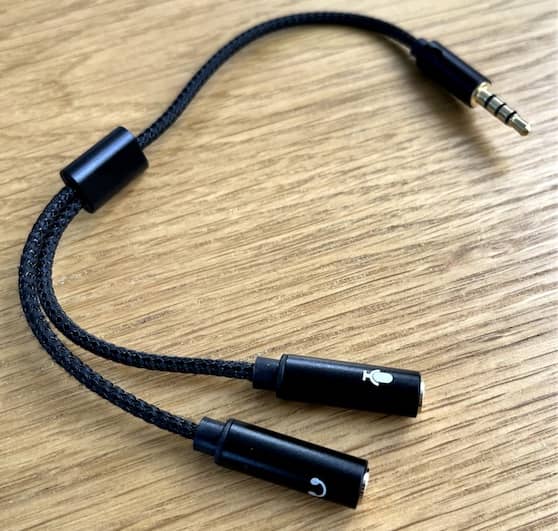 A TRRS splitter allows you to use wired headphones and a wired 3.5 mm microphone with a computer or mobile device.
Equipment Overview
Compatibility with Riverside

Computer Browser
Riverside Mobile App (see below)

Connection type
TRS Mic & TRS Headphones sockets ⭢
to TRRS plug (computer or mobile device)
Recommendations 
Use this to connect wired headphones that use a mini jack connection (also known as an 3.5 mm or 1/8th-inch plug) and a wired microphone that also uses a mini jack, like the Rode VideoMic Go, Rode Wireless GO II, or a lavalier-style mic.
On a computer
Most computers and laptops now only have one combined TRRS headphone/mic port.
Use the TRRS splitter to connect both the mic and headphones to the same port.
On a mobile device
Many mobile devices no longer have a headphone/mic port.
Use the TRRS splitter to connect both the mic and headphones to the same port.
Depending on your device, you may also need:
Learn more