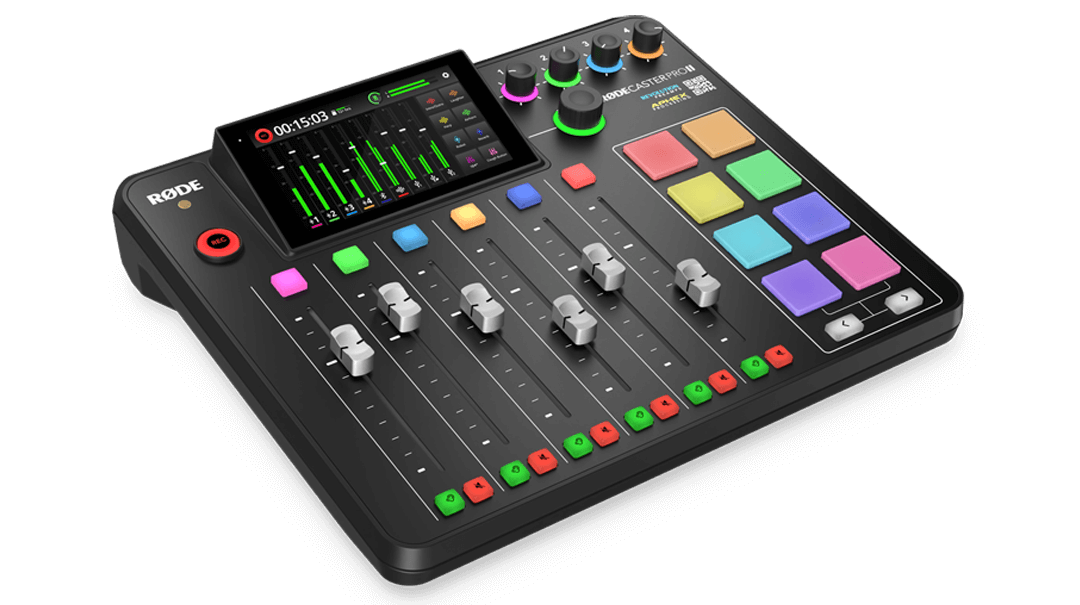 Use XLR microphones and other audio sources with Riverside by connecting the RODECaster Pro II to a computer via USB or mobile device via Bluetooth.
Equipment Overview
Compatibility with Riverside

Computer Browser
Riverside Mobile App

Connection type
USB-C (to computer)
Bluetooth (to computer or mobile device)
Manufacturer details
Recommendations
Connect the RODECaster Pro II to your computer using its USB ➀ output.
In your browser, select RØDECaster Pro II Chat

as the audio input and output for Riverside.

The Pro II Chat is optimized for communications platforms like Riverside. It is configured for stereo output (rather than multitrack output) and has mix-minus enabled by default to minimize echo.
If needed, you can also record in multitrack to a MicroSD card in the RODECaster Pro II.
For details on using the RODECaster Pro II to record in-person and remote participants simultaneously, see the video below:

Troubleshooting
If using a Mac, you may not immediately see the RODECaster Pro II after connecting it. In the Mac's menu bar, click on the Sound icon, and select Sound Settings/Audio Preferences to see all available devices.

If 'RODECaster Pro II Chat' is not listed, try reconnecting and check that you are using its USB ➀ output.
Further troubleshooting